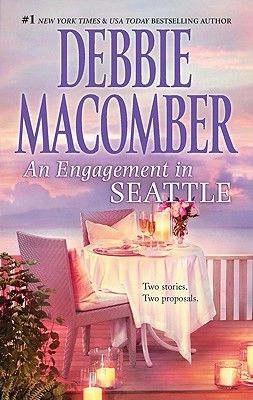 [An Engagement in Seattle has two books: Groom Wanted and Bride Wanted. For a review of Groom Wanted, please see Part 1.]
Review of Bride Wanted:
What do you get when a man from Alaska decides he's go three weeks to find and marry a bride? A funny heart-warming tale of two lonely people finding love under unorthodox circumstances.
Chase is a lonely Alaska pipeline worker who has vowed he will not go through another Alaskan winter without a wife. The loneliness and need for human contact are getting to him. And while thinks he's not asking for much, he's blown away by the number of women willing to answer his ad for a wife on a billboard in Seattle. But not just any woman will do. The one Chase wants is in love with another man.
Lesley's life isn't idea, but she's doing okay. It's not everyone who's strong enough to whether a fiance who dumped her to marry a fellow co-worker. Worse still, they all work together at the same school. Everyday she's faced with the pain and her ex-fiance's "guilt" as he manages to play the martyr. How will she ever be able to move on when he won't release his hold on her heart?
Chase and Lesley meet by chance and the attraction is immediate. She's very interested in him until she finds out he's the man responsible for that ridiculous billboard advertising for a wife. Now Chase must fight and uphill battle for the one woman he wants while interviewing hundreds who will never measure up.
This is one of my favorite Macomber books. Why? The premise is funny and lends to some great moments. But it's the author's ability to make even the most ridiculous story line plausible by showing the vulnerable side to heartbreak and loneliness and what people will do in order to belong to someone, even when they're scared to take that leap of faith.
This story does have a love scene that is a little more descriptive than what I would usually recommend on this site, so read at your own risk. It's not terrible, but it does mention a body part or two, which I found unusual for Debbie Macomber. But since this book was packaged together with
Groom Wanted
that was clean, I felt a warning was needed for this one.
Book Summary: Bride Wanted
- A billboard on the side of a Seattle road is common enough—but one advertising for a bride? It's Chase Goodwin's solution to the problem of finding a wife
quickly
, a wife to bring home to Alaska. Lesley Campbell has her own reasons for responding…and in no time she's the
Bride Wanted
in Chase's life!
[
Engagement in Seattle
by Debbie Macomber, 475 pgs, Mira Books - 2011, Contemporary Romance]
Booknificent Rating:

Related Links:
An Engagement in Seattle by Debbie Macomber - Part 1
Read More...